MARKETING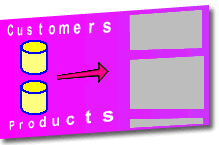 In every business establishment, having the skills needed to perform market research, market analysis, demographics, market segmentation, product positioning, sales promotion, advertising, pricing, distribution, merchandising, product evaluation and marketing management are not enough to perform your task competitively without the proper tool. Just because you know how to type, think and analyze market trend doesn't mean you can beat your competitor who have the proper software tools who can type, think and analyze in microseconds. Every 18 months computer processing power is doubled. Businesses who take advantage of such computing power are in no doubt more successful than those who don't.
ADVANTAGES:

Analyse your market trend easily and competitively.

Employ forecast capability and accurately.

Launch marketing campaign seamlessly.
WHAT YOU NEED:
1. Marketing Tool

BizAndServices.com can design a Maketing Tool according to your specification. Our experience in the corporate world can enhance your business by providing you additional ideas that have contributed a lot of success to our clients.
SUCCESS STORIES:
- Not too long ago I was invited to a meeting in a big corporation. As soon as I entered the conference room, I was surrounded by executives with different areas of discipline. We were analyzing a huge chunk of data collected from different divisions in North America, Europe and Asia. All we can see are numbers and numbers segmented in multi-dimensional format and none of us could make sense out of it. The initial approach of the company was to purchase an enterprise off-the-shelf software amounting to $40,000.00. After the first approach failed to do the job, a second software in the amount of $100,000.00 have been evaluated and found to have limited capabilities. Finally, it was decided that we develop a software tool to perform extensive data mining and incorporate additional functionalities for forecasting and display not only numbers that makes sense but produce results in graphical format that quickly catch the attention of every analyst. Such tool have help not only marketing and sales department but also top level executives in making the right decisions critical to the company's health.
BUSINESS OPPORTUNITY KNOCKS:
Contact us now for a free quote.
Do you have questions? We got answers.
me this opportunity information for my future reminder.
this opportunity information to a friend.